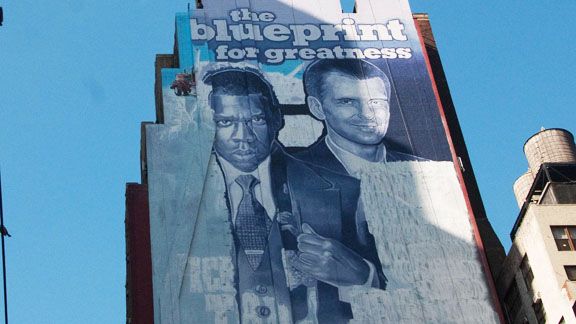 1) LeBron To Meet With Knicks Thursday
Wait a second, so the aren't even flying LeBron out to New York, they're going to meet in Cleveland?? Man, I thought they didn't stand a chance before, now they're totally out of it. The only thing the Knicks can do at this point is show LeBron the
"Cleveland, At Least We're Not Detroit" video
on a continuous loop.
This is just a formality, LeBron is NOT going to the Knicks.



2) Nets Try To Woo Free Agents With Jay-Z/Prokhorov Billboard


My main question about that billboard is do you think jay-Z had any say on whether his image with on it?? I doubt it. New Nets owner Mikhail Prokhorov would've sent some Russian mobsters down to Brooklyn to tune Hov and the Roc Nation up if he didn't agree. And that's suggesting he even bothered asking Jay-Z's permission, he could've just said fuck it and did it.

Whatever, the Nets aren't get anybody anyway. Maybe an Amare or Boozer, but none of the big three.



3) Dirk Nowitzki Opts Out Of Mavs Contract


This is intriguing, but I don't think Dirk wants to leave Mark Cuban. It's sad too because Dallas is never going to win with Dirk as their best player. It's just not gonna happen. He's best off in a situation like playing with Wade in Miami or with LeBron in Cleveland...or maybe Chicago?? I'd love to have Dirk in Miami, but like Bill Simmons said

yesterday on ESPN's free agency summit

, the city of Dallas would kill themselves if Dirk left them for the team that beat them in the Finals in '06. I think Dirk either goes to Chicago, or stays in Dallas.



4) Paul Pierce Plans To Opt Out


Oh stop it Paul, we all know you aren't going anywhere.



5) Amare Testing Free Agency


I can't wait to see who gives Amare Stoudemire a max contract so he can give you 15 and 8 next year. Yeah, he averaged 23 and 9 in 09-10, but that was when he played with Steve Nash. If he goes to New York or Miami he'll be asked to create his own shots. That's right, now more super easy baskets in the paint off perfect passes from Nash. Amare needs Nash more than Nash needs Amare.

My gut feeling is that he'll end up playing for the Knicks because after they get burned by all of the big three they'll have to bring in something so the city doesn't take to the streets to riot.



6) Richard Jefferson Gives Up $15 Million To Opt Out


I thought Richard Jefferson was an idiot when he

dumped his fine ass fiance last summer

, but that doesn't have SHIT on this. By optioning out of the final year of his contract with the Spurs, he's agreeing to give up the $15 million he's due to make next season for a chance to make less than half of that somewhere else. Did he not see himself play last year?? Talk about Idiocrary 101.



7) Allen Iverson Will Try To Comeback Next Season


I love A.I., but it's time to give it up. He doesn't want to be a role player, so what's the point?? I could see if his goal was to win a championship, but his goal is to start. He totally has the wrong mindset to contribute on a winner at this point in his career.



8) Doc Rivers To Remain Coach Of Celtics


Good for Doc. That is all.



9) Cavs In Negotiations With Byron Scott To Coach


Smart move on the Cavs behalf, Scott is a very good coach and he won't just be a suit like Mike Brown was.